Kim Kielley has been writing since she was a kid. Twenty years ago, she graduated from journalism school and pursued her career as a journalist. Today, she's the Associate Editor of the ex/press in St. John's, Newfoundland.. She has two books already published, "A boat called Hipjoint" and "Angels and Miracles True Stories. This is Kielley's first of many books with Creative Book Publishing.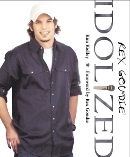 Rex Goudie skyrocketed to fame after an audition in St. John's, Newfoundland for the reality show, Canadian Idol. After his winning audition, Goudie continued to make the cut until finally, in the end, it was between him and Melissa O'Neil, standing on a stage in front of millions of viewers. Who would be the next Canadian Idol? Newfoundlanders and Labradorians held their breath. Would Goudie be the next Canadian Idol? When he took second place, the boy from Burlington made us all proud when he held his head high and accepted defeat with grace and charm.
This book traces Goudie's life back to his childhood, in his hometown where folks there still remember him covered in grease, fixing his dad's truck. There's interviews with his favorite teachers, his parents, his friends, his family. And best of all, there's interviews with Rex. We'll find out what he thinks of this whole Canadian Idol phenomena and if he and Melissa really have a "thang" goin on.
This short biography of Rex's life is complimented by oodles of never before seen photographs. It's the only authorized biography of Rex out there and is great for children, teenagers and grown-ups alike. Don't miss it